VATICAN CITY — Even before last week's major interview, Pope Francis' pontificate had certainly not been given short shrift in the mainstream media during his first six months as Pope.
In fact, the Holy Father has made such a positive impact on the world stage that negative comments are almost entirely absent in the mainstream media.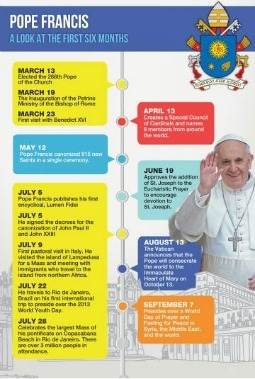 Many have been affected not only by his words, but his actions and gestures — from his emphasis on God's love and mercy and peace-making efforts in Syria to his out-of-the-blue telephone calls and his decision to shun the apostolic palace and live in the St. Martha guesthouse.
Images of him kissing children, hugging the disabled and being driven from the Rio de Janeiro airport in the back of a family hatchback have only further endeared him to the public.
Vanity Fair's Italian edition named him "Man of the Year" six months before the year had ended.
And mainstream news agencies have been lining up to praise him. A commentator for MSNBC — not usually a pro-Catholic network — went so far as to describe him as "the best pope ever."  Among Americans, he has a 79% approval rating. In Italy, it's as high as 85%.
Positive Outreach
From the beginning, his outreach was having a positive effect, also beyond the Catholic world. His emphasis on being bishop of Rome rather than pope was said to have prompted the Ecumenical Orthodox Patriarch of Constantinople to attend his inauguration — the first time that has happened since the Great Schism of 1054.
When the Pope called for a day of prayer and fasting for peace in Syria, Grand Mufti Ahmad Badreddin Hassou of Syria, a spiritual leader of Sunni Islam, welcomed the appeal, held a similar day of praying and fasting for peace in his country and proposed that the Holy See organize an interfaith meeting.
Jewish leaders have also been impressed. Rome's Chief Rabbi Ricardo Di Segni said that, although Pope Francis' words to the Jews are not new, "it is the force with which he expresses them, and his capacity of communicating them, that is astounding."
Atheists, too, have been affected by the new Pope. Eugenio Scalfari, an admitted atheist and founder of the Italian daily newspaper La Repubblica, said he was "greatly moved" that Francis wrote a public letter in reply to his questions on the faith. He was particularly impressed by the candid nature of the reply. "Until now, I had never heard an openness to modern culture and to the secular [on] such a scale coming from the chair of St. Peter," he said.
Emphasis on Mercy
Central to the "Francis effect" is his emphasis on God's forgiveness and mercy, manifested in a reluctance to judge.
He explained this clearly at his general audience Sept. 18: Likening the Church to a mother who never gives up on her children even when they err, he said, "I think of the moms who suffer for their children in prison or in difficult situations. They don't ask themselves if [their children] are guilty or not; they keep loving them and often experience humiliations, but they have no fear. They do not cease giving of themselves."
The Church, he added, takes a similar approach to her wayward children. She "never shuts the Church's doors; does not judge, but offers God's forgiveness — offers the love that invites even those children who have fallen into a deep abyss to return to the path."
"Mercy" is the word that sums up the pontificate, a senior Vatican official told the Register, "but I don't think he's going to sell the Church short at all on doctrine." His aim, he said, "is to smother you with God's love and mercy, and it appears to be working."
The Holy Father's frequent phone calls, many of which go unreported, are just one example of this — a very pastoral attempt to reach out to suffering humanity and help people find solutions to their problems. As a cardinal, he was known for this outreach, as well as for living an austere life.
Optimism for the Church
Partly as a result of his popularity, the dark cloud pervading the Church over the Vatican and clerical sex-abuse scandals of recent years seems to some to be dissipating — to be replaced by a pervasive mood of optimism and openness.
"What has changed is the passing from a negative, judgmental Church into a positive, open Church," noted Vatican spokesman Father Federico Lombardi. "Pope Francis has spoken much about a non-self-referential Church, of a Church on a mission, a Church that looks outside of herself to the whole world."
In reality, previous popes have always had such a global perspective, Father Lombardi said in a Sept. 12 interview with Avvenire, the newspaper of the Italian bishops' conference. But he believes Francis' uniqueness as the first Latin-American pope "is bringing something specific in style and perspective, and it is something desired by the universal Church."
He said such qualities further "enrich" the Catholic Church and highlight especially Pope Francis' missionary zeal. He also made a point of praising Pope Emeritus Benedict XVI, noting in particular his "serenity, faith, spirituality and extraordinary kindness."
Over the past six months, the Holy Father has frequently reminded the faithful of the importance of evangelization, peace, charity and service to the poor, even going so far as to say that he wants a "poor Church."
He makes a point of returning to a specific number of core issues and concerns, as if to drive them home. The main ones are reminders to the faithful not to be self-absorbed and self-referential, to refrain from gossiping and speaking ill of others, and to go out to the margins of society and spread the Gospel.
Priests, he has often warned, must not be careerists, nor mere administrators.
On practical issues of governance, Pope Francis has begun reforming the Vatican's outdated bureaucracy by establishing three advisory commissions, including a group of eight cardinals whom he knows well. His first key appointment, that of Archbishop Pietro Parolin as secretary of state — considered to be the closest equivalent of a Vatican "prime minister" — was widely welcomed.
A talented and respected Vatican diplomat, he is expected to help restore some of the Holy See's international credibility and aid Curial reform.
But Francis has made few governing decisions so far, and most are expected in the next few months.
And yet, for all his obvious qualities, not everyone is happy with the new Successor of Peter.
Traditionalist Concerns
The Holy Father faces increasing criticism from some traditional Catholics who feel slighted, judged and excluded by some of the Pope's comments, which they see as directed at them.
Some Catholics have also been discouraged by some of his teaching, particularly his misinterpreted comments on homosexuality and atheists, and argue that, although consistent with the Catechism, such views are unclear, incomplete and, therefore, confusing.
They are also uneasy about the way he eschews symbols of the Petrine ministry and protocol and his seeming reluctance to speak out about key life issues and the redefinition of marriage.
Once he does so with more frequency — as he did on Sept. 20 addressing a Vatican conference for gynecologists — many see the secular world's love affair with the papacy coming to an abrupt end.
But for now, the Vatican isn't too concerned. "These are all debatable points and I'm not going criticize the Pope for not playing the hard line," said the official.
"What's important is that there's been a tidal wave of positive feeling towards Francis," he said, "and we've seen a lot of people coming back to the Church."
Edward Pentin is the Register's Rome correspondent and a contributor to EWTN News Nightly.
Read more: http://www.ncregister.com/daily-news/pope-francis-first-six-months/#ixzz2g0uow0E8