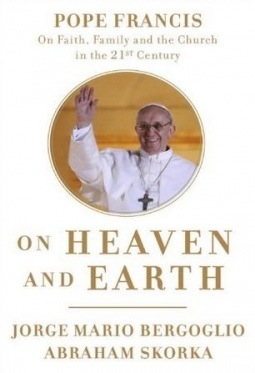 A new book on a variety of hot topics containing the thoughts of Pope Francis when he was a cardinal appears in English language bookstores on Friday.
The book, called "On Heaven and Earth: Pope Francis on Faith, Family, and the Church in the Twenty-First Century," was originally published in Spanish in 2010. It is the text of a conversation between the Pope – then Cardinal Jorge Mario Bergoglio and archbishop of Buenos Aires – and Argentine Rabbi Abraham Skorka.
It is divided into 29 chapters according to topic, and includes frank discussions on same-sex marriage, globalization, euthanasia, fundamentalism, and many other subjects in the news.
An early theme concerns the devil — a subject Pope Francis has frequently raised since his election March 13.
"I believe the Devil exists," Bergoglio says. "Maybe his greatest achievement in this times has been to make us believe that he does not exist, and that all can be fixed on a purely human level."
On the subject of pedophilia, Bergoglio is forthright, strongly opposing moving guilty priests from one parish to another (he describes it as "stupid") and admiring Benedict XVI's "courage and straightforwardness" in enforcing zero tolerance for such a crime.
He frequently stresses the importance of free will in the book, and opposes clericalism, proselytism, and fundamentalism.
A priest should never impose the faith but simply present and defend Church teaching with clarity, he says.
Fundamentalism, he adds, is an "opiate" because it takes people away from the living God and reduces the Divine "to a being you can manage with prescriptions." It is a form of "buying comfort, well-being, fortune and happiness," he says, "but it leaves behind the living God, He that accompanies you along the way."
On euthanasia, the future Pope says he believes a kind of "covert euthanasia" is taking place: "Our social security pays up until a certain amount of treatment and then says 'may God help you.' The elderly are not taken care of as they should be, but rather they are treated as discarded material."
Turning to abortion, Bergoglio sets religion aside in order to stress that, simply from a scientific view, the genetic code of a person is present at the moment of conception, already making him a human being. "Abortion is killing someone that cannot defend himself," he says.
He goes on to discuss with Rabbi Skorka the issue of same-sex marriage, which he describes as an "anti-value" and "anthropologic regression."
It is a weakening of the institution of marriage that has existed for thousands of years and "forged according to nature and anthropology." There have always been homosexuals, he says, "but never put on the same level" as heterosexuals and given the same status of marriage.
But again, the cardinal stresses the importance of free will – including the freedom to sin. A priest "does not have the right to force anything on anyone's private life," Bergoglio says.
"If God, in creation, ran the risk of making us free, who am I to get involved?" He says "one has to speak very clearly about values, limits, commandments, but spiritual and pastoral harassment is not allowed."
He goes on to say that priests should propose values "without interfering" in "partisan politics" and avoiding preaching "against so and so."
"We do not preach against anyone," he says. "We refer to the value that is in danger and that must be safeguarded." And he criticizes the press for reducing what he says to "whatever is opportune."
"Today, from two or three facts, the media spins something different: they misinform," the new Pope says. The media is "sometimes infected with hepatitis," he continues, because of "their yellow colour" and tendency to "jump out and say: "Harsh rebuke to so and so."
Bergoglio is characteristically strident when it comes to discussing capitalism and communism.
Capitalism, he says, "has its own spiritual perversion" by taming religion, so that it doesn't bother capitalism too much, thereby giving it a "certain transcendence, but only a little bit."
Communism's spiritual perversion is to reject the transcendent because it believes it "paralyzes man" and does not allow him to progress. Both perversions, he says, are manifestations of worldliness.
Regarding care for the poor, the Pope differentiates between genuine works of charity and "social-conscience calming activities" carried out so that a person feels "good about oneself." But love, he says, "requires a person to go out from himself, to truly give oneself to others."
What a poor person needs most is a job to give him dignity, and he must not be looked upon with disgust. "He must be looked at in the eyes," he says, adding that the great danger when aiding the poor is falling into an attitude of "protective paternalism" that doesn't allow them to grow.
He argues that globalization should preserve the diversity and harmonious unity of humanity rather than become like "a uniform billiard ball" in which the "richness of each culture is lost."
Turning to the Arab-Israeli conflict, he says the way to resolve animosities is to emulate the Egyptian monks of early Christianity, who accused themselves so they could find a solution. "They put themselves in the defendant's seat to see what things were not working well inside of themselves," he said. "This gives me the freedom to, later, be able to forgive the fault of the other person."
There is plenty more in this book, including discussions about science, women, divorce, education, and the Holocaust. The conversations on each subject are mostly short, merely giving a taste of the Pope's thoughts, but with so little known about the new pontiff, even the shortest passages are enlightening.
© 2013 Newsmax. All rights reserved.
18th April 2013