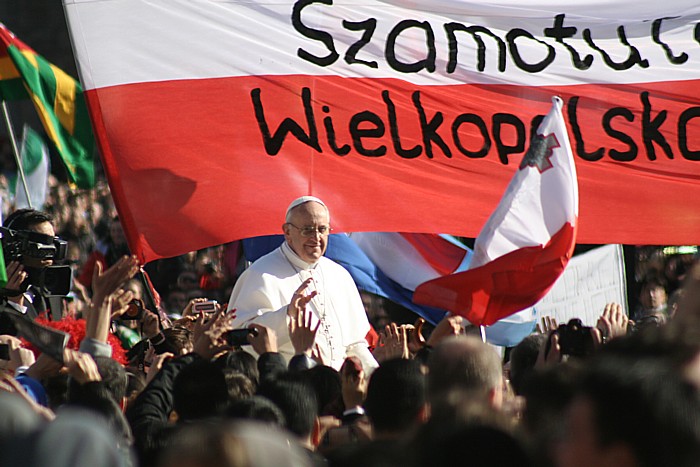 VATICAN CITY 23 March 2013: In his homily at a Mass this morning for Vatican employees in the residence where he is temporarily staying, Pope Francis offered a brief reflection on the liturgical readings of the day and, in particular, the passage of the Gospel of John (11, 45-56).
The passage contains remarks from  the high priest Caiaphas to the chief priests and the Pharisees gathered in council, and this comment of the evangelist: "Jesus would die for the nation, and not for the nation only, but also to gather into one the children of God who are scattered abroad."
Jesus died for his people and for all, but this, the Pope noted, shouldn't be taken to mean in a global sense. It means that Jesus died for each person individually. Every Christian must therefore say, "Christ died for me."
This is the ultimate expression of the love of Jesus for all people, the Pope said.  And the awareness of this love, he added, should give birth to gratitude – a gratitude so deep and passionate that it could even transform into tears of joy on the faces of all the faithful.
Concelebrating with the Pope were Cardinal Raúl Eduardo Vela Chiriboga, retired archbishop of Quito in Ecuador, Archbishop Lorenzo Baldisseri, secretary of the College of Cardinals and the Congregation for Bishops, Monsignors Alfred Xuereb and Battista Ricca, director of the Domus Sancthae Marthae.
Among those attending were the sisters of the Domus and the secretary of the Pontifical Commission for Latin America, Guzman Carriquiry, with his wife.
The Holy Father is celebrating Mass daily for the staff while he resides there until the apostolic palace renovations are complete.