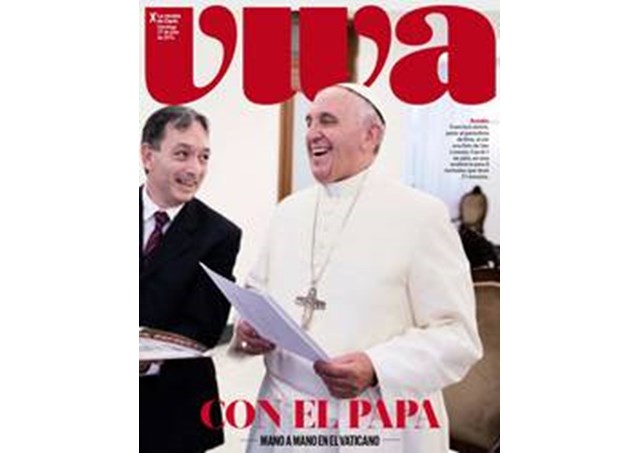 Pope Francis has become the latest to contribute to a largely secular contemporary debate on the nature of happiness. But his responses, given in a new interview, have been criticized by some Catholics for appearing worldly and lacking serious Catholic doctrine.
In what amounts to his 10th major interview with the media, the Pope shared a 10-point plan for happiness that included the maxim "live and let live," giving oneself to others, and protecting a culture of recreation in the face of consumerism.
Venturing into more political areas in the interview, the Pope also praised Sweden for its open-door immigration policy, and stressed that peacemaking is active, never a kind of stillness. He also implied he is opposed to fracking, the controversial method of extracting natural gas.
The Pope's comments appeared on Sunday in a feature article in the Argentine magazine Viva, a supplement of the popular national daily, El Clarín. The interview, made earlier this month, was given to mark the first 500 days of Francis' pontificate.
"The Romans have a saying, which can be taken as a point of reference," the Pope said. "They say, "Campa e lascia campà [live and let live]. That's the first step to peace and happiness."
The next is "giving oneself to others" because if one gets tired, "one runs the risk of being egoistic, and stagnant water is the first to be corrupted."
Another tip to achieving happiness is to "proceed quietly" and he held up the elderly as an example: they move with "kindness and humility," he said, and warned that a people which doesn't take care of its elderly "has no future."
The Pope advocated playing with children as a key to joy, and stressed the importance of a healthy culture of leisure, reading and enjoying art. "Consumerism has led to the anxiety of losing [this culture]," he said.
Sundays should be a day of rest, spent with family, he said. Happiness can also be found in helping young people find employment, especially as many these days lack opportunities and "fall into drugs." Suicide rates are "very high among young people without work," he said, and he advocated young people today be taught more about skilled apprentice work.
For the other keys to happiness, the Pope recommended looking after and safeguarding nature (he is expected to issue an encyclical document on this soon) quickly forgetting the grudges (speaking badly of others shows "low self-esteem") respecting those who think differently, and actively seeking peace.
Turning to the international situation, the Pope drew attention to the increasing number of conflicts and wars across the globe. "War destroys," he said. "And we must cry out for peace. Peace sometimes gives the idea of stillness, but it is never stillness. It is always an active peace."
On the plight of refugees, he said Europe fears speaking about immigration, but praised Sweden for its policies, noting that they have allowed in as many as 800,000 immigrants in a population of 25.3 million.
Regarding ecology, he warned against extracting earthly resources at the expense of the environment and made an implied criticism of fracking — the controversial method of extracting gas that opponents say risks contaminating water supplies.
"When, for example, you want to make use of a mining method that extracts more than other methods, but it contaminates the water, it doesn't matter," he said — according to Vatican Radio's report on the interview. "And so they go on contaminating nature. I think it's a question that we are not facing: Humanity, in its indiscriminate use of and tyranny over nature, is it committing suicide?"
The Pope also said he believes the church grows by attraction, not proselytizing. "The worst thing you can do is religious proselytizing, which paralyzes," he said.
Calvo noted in the article that Francis only mentioned God three times in the 77-minute conversation, and Jesus Christ only once, in the context of a joke Calvo made about John Lennon's quotation that the Beatles were more famous than Jesus. Also observers noted the Pope didn't mention the Ten Commandments or the Beatitudes as keys to happiness.
But this is becoming a well honed strategy with Pope Francis. As in his previous interviews with the secular media, he has preferred to speak in a language that everyman can understand and find acceptable.
In all of his addresses, he carefully tailors his speech and gestures to whichever
audience he is speaking.
This approach has arguably been successful.
In the mainstream media's eyes, he can do no wrong as he has led them to believe he is just like one of them, thereby giving his teaching much more exposure than would otherwise be possible.
But the strategy fails to convince an increasing number of rank and file Catholics who would like to see more overtly Catholic statements coming from the See of Peter. The saying "Live and let live," they argue as an example, is misleading and uncharitable to someone who is living immorally.
So compromising have some of the Pope's statements seemingly become that Francis' own Catholicity is being questioned, with a few openly accusing him of heresy. "He sees the world as the world see the world," said one very disgruntled Catholic critic. "And he sees the church as the world sees the church."
After giving nearly a dozen tailor-made interviews — all but one to the secular media — calls are increasing for the Pope to turn his attention back to his confused and somewhat disheartened flock.
It's time, they say, to do some clearly orthodox preaching to the choir, but this time on the pages of the Catholic press.
Read Latest Breaking News from Newsmax.com http://www.newsmax.com/EdwardPentin/Pope-Francis/2014/07/30/id/585762#ixzz38xgctc1D