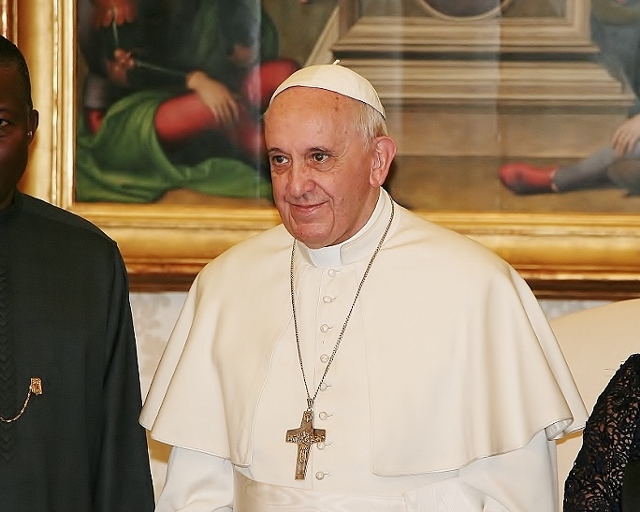 Pope Francis is very intuitive, prays, and meditates a great deal, but lives in the present and doesn't know where he will lead the church, a close friend of the pontiff for 20 years told Newsmax.
"He's a very intuitive person and he develops a strategy with a lot of prayer and meditation," said Jose Maria del Corral, who led diocesan educational projects when Pope Francis was Archbishop of Buenos Aires. "Every day, from 4 a.m. to 6 a.m., he'll meditate, no matter how tired he is."
Del Corral, who now runs an educational project inspired by the Pope, said Francis is one of only a few world leaders "who really don't check the time when they're talking with you. He sees you, listens to you, and at that very moment, there's only one person on earth, and it's you."
"His time is the present," he added. "He doesn't really miss the past, the glories of the past. He's not distracted by the future and the world ahead."
Asked about where he thought Pope Francis would lead the Church, del Corral said: "I believe he doesn't really know. He lives in the present; he's going to make the right decisions, but in the here and now."
As Archbishop Bergoglio, Francis underlined the importance of education, and as Pope he has inspired del Corral to set up "Scholas Occurentes" — a charity that aims to improve education worldwide and make it more inclusive, especially for pupils of low-income families and schools with few resources.
"There's total commitment," del Corral said. "He himself launched the project in August. He took advantage of his experience as archbishop of Buenos Aires; he led similar projects when he was archbishop."
Del Corral, who is updating the Pope monthly on the expansion of the program, said Francis believes that without education "it's not possible to change the world." The Pope strongly advocates education as the most effective means of achieving peace, he said, and believes it is the only way to "really finish with war as an institution."
An economist who gave up a life in the corporate world to study theology and become a teacher in Catholic schools, del Corral said he and Archbishop Bergoglio became close friends for over two decades.
"I don't want to consider myself as just a friend," he said. "I consider him as a father." Asked to expand on why he felt that way, he became emotional and at a loss for words, eventually saying it was because of Francis' pastoral sensitivity and that he always takes a great interest in the person to whom he's speaking.
Del Corral's insights into the Pope's character — especially his attitude to decision making — echo those of Jesuit Father Antonio Spadaro who conducted the first interview Pope Francis gave last August to the Jesuit journal La Civilta Cattolica.
Speaking with Spadaro last month at the launch of a new book on that now-famous interview, he said the Pope takes decisions in a very "Jesuitical" manner.
"He doesn't make decisions balancing reasons [but] by discernment, so praying and trying to feel the spirit, trying to be inspired, balancing the emotions of the spirit, not reasons or logic," he said.
"It's a completely different way of proceeding, a different way of thinking."
Read Latest Breaking News from Newsmax.com http://www.newsmax.com/EdwardPentin/Pope-Decisions-Catholic-Church/2014/04/01/id/563047#ixzz2xwXoBmPl