While respected British portrait artist Alexander Talbot Rice was working on a painting of Pope Emeritus Benedict XVI, he came close to death in Afghanistan, suffered personal loss, and yet throughout the entire experience, he grew in faith.
"It was a very meaningful experience for me," Talbot Rice tells ZENIT. "It is a picture that was supposed to be painted."
The artist, who has painted in person Queen Elizabeth II and the late former British Prime Minister Baroness Margaret Thatcher, presented the portrait at a June 28 dinner of distinguished guests in Rome hosted by the Dignitatis Humanae Institute, a Catholic non-governmental organisation.
The painting, taken mostly from photographs, took two years to complete and is expected to be bought by a donor to be given to the Vatican Museums.
The project began in 2011 when Cardinal Giovanni Lajolo, the former governor of Vatican City State, commissioned the painting, having seen Talbot Rice's painting of the Duke of Edinburgh. "He took me to one side and said wouldn't it be lovely if you did a painting of the Holy Father," Talbot Rice recalls.
He says he found the experience of painting Benedict XVI's portrait "profoundly spiritual", adding that although he didn't meet the Pontiff, in painting such a man of faith one finds "part of them in yourself."
The portrait depicts Benedict XVI with a smile and a twinkle in his eyes. "There's that incredible intelligence shining through his eyes," says the artist. "That's what struck me about him: the strength of mind, and his love of high culture." It also shows him with "a little more vigour" than images of him of late, where he has appeared increasingly frail.
But it was also everything else that was going on in his life that brought a deeper meaning to the portrait. Talbot Rice, who comes from a family with close connections to the Welsh Guards, spent time in Afghanistan where he helped a foundation, set up by British parliamentarian Rory Stewart, to create an arts centre in Kabul. After that, he wanted to see more of the country – but it was an adventure that nearly cost him his life.
"I bought three horses and with a guide and translator, basically rode over northern Afghanistan," he recalls. "Half-way through the journey, we were at 14,000 feet. It was bitterly cold, it was getting dark, we'd been riding for 10 hours, and we had to stop to feed the horses and get some shelter."
"We came to a village and went to main house there. About 25 men were in there, all Talib [members of the Taliban] and they were in the middle of their prayers. A mullah was leading their prayers, looking a bit like Bin Laden, and I thought the polite thing to do would be to join them, so I went to the front, knelt down and, as a Christian, prayed with them."
"Afterwards, I called my translator over and asked if he would please explain to the mullah that we'd like to accept his hospitality. And the mullah turned to my friend and said: 'If this man is a Christian and prays as a Christian among so many Muslims, he must be a man of great faith and God is protecting him.'"
All this, he says, was happening concurrently with the painting. "That was an extraordinary experience, literally being very close to being killed, and so a lot went into this painting." He had also just gone through a painful divorce.
As Talbot Rice finished the painting, he remarkably cut away most of it, leaving just the head and shoulders. "Originally it was going to be a much bigger picture, three quarter length," he says. "It was just when I'd finished it that I decided to cut all of it out and just go for the head and shoulders."
The original had been of Benedict in full vestments giving a blessing. "I took all of that out. I wanted it to be much more intimate," he says. "I woke up one morning, I'd just finished it, and I knew what I had to do, so I got a pencil, drew around a frame I had in the house, got a pair of scissors and chopped it all off."
He says "part of the process in painting is a dialogue with the picture" and that sometimes "you never know where you're going to go before the answer becomes apparent."
Talbot Rice was raised a Greek Orthodox Christian, but he is fond of the Catholic Church, feels drawn to it, and sees a "strong cultural connection" with Rome. He now hopes to start a portrait of Pope Francis whose humility he finds an "inspiration", and would very much like to paint him in person.
While he was working on the painting of Benedict, he was also painting a portrait of Baroness Thatcher who sat regularly for him. It was the last painting of her before she died in April this year. Previously, he has painted the Queen, who sat for him in the Coronation Coach, which she has only ridden in three times during her reign.
"I loved her, I thought she was great," Talbot Rice says. "There are two queens – a public queen and private one – and she was just lovely. But you never forgot who you were with her, while at the same time it was important not to be obsequious." He was particularly pleased that she felt at ease during the sittings. "That's a great help as it gets the best out of a subject," he says. "I wanted to paint her smiling and that's what happened."
***
Egos
Talbot Rice is a specialist in fine arts; he studied classic portraiture in Florence and at the exclusive Repin Academy of Arts St. Petersburg. But he laments that in the contemporary art world, he is almost considered "anti-establishment" because he is a classical, naturalistic painter. The irony is that conceptualism and modern, abstract art is now the establishment.
"It's important to encourage artists that all of these forms are valid and that to appreciate all forms of art is to be the opposite of closed minded, which is the opposite of what they [conceptualists] pretend to be," Talbot Rice says.
Some have drawn parallels between modern and classical art and the tensions between the faith and modernity, between the Church and secularism, where secularists have become the establishment and are intolerant of those who value the Christian roots of civilization.
Talbot Rice argues that for art to be abstract, it has to be an "abstraction from something" and that something provides the forms, language, and vocabulary in which to express oneself through art with understanding. "How you choose to express yourself is up to you but you have to have that vocabulary in music, or in literature or in any art," he says. "And if you think fine art is any different from any other art form then actually you're asking several fundamental questions which are rather presumptive, like what is art?"
He adds there's a "lack of humility, an intolerance that I don't like about conceptualism," and argues that "the guy in the street" should be able to look at the painting and "get it."
"You should find it tasty, and if it's tasty, you know it's tasty. It's like good food – no one can tell you that you should or shouldn't like that. We've all got something in our DNA that should enable us to say 'this wine tastes lovely'. That doesn't mean we should all like the same wine, but there's definitely a difference between something that's corked and something that isn't."
Today's conceptualist "is about sensationalism, celebrity, and about them," he says. "It's very ego driven."
This article appeared in ZENIT, July 12, 2013.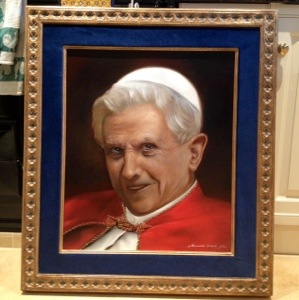 My article from Sept. 2011. Socci was of course right and it seems Vatileaks made the Pope postpone the decision.
***
Pope Benedict XVI's intense four-day visit to Germany last week, Vatican spokesman Father Federico Lombardi expressed his astonishment at how well the Pope had coped with such a grueling schedule.
"The Pope is doing extraordinarily well," he told reporters on the final day. "This has been pleasing to see for us, for the people and for him too."
So it came as a surprise when the Italian press reported speculation the same day saying the Pope may resign when he turns 85 next April.
The rumor was quickly dismissed by the Vatican. "We don't know anything about it," Father Lombardi said. It was clear, he told Reuters, that the Pope "is still able to deal with very difficult commitments."
The story originated from journalist Antonio Socci. Writing in the Italian newspaper Libero, he said "this rumor [of resignation] is circulating high up in the Vatican and therefore deserves close attention." The Pope, he claimed, "has not rejected the possibility" of resigning on his 85th birthday.
Last year, Pope Benedict candidly told German journalist Peter Seewald in the book "Light of the World" that he could foresee a situation of abdication, such as when a Pope "clearly realizes he is no longer physically or psychologically and spiritually capable." But he also said that when the danger is great, "one must not run away" and now is "certainly not the time to resign."
Last week, the Pope's brother, Msgr. Georg Ratzinger, said he believed his younger brother should retire if health problems make it impossible for him to fulfill his pastoral duties, but he made it clear that he was speaking hypothetically and not about any current medical issue. "He is very capable of taking action" now, he said.
Some observers have pointed to signs that could give credence to Socci's speculation, though the evidence is largely unconvincing.
On a visit to L'Aquila in 2009, the Pope unusually left his own "pallium," a woolen vestment which is a sign of episcopal authority, on the tomb of Pope Saint Celestine V — the only pontiff to have willingly chosen to resign. But the Pope made the visit to honor the 800th anniversary of St. Celestine's birth — a gesture any other pontiff would have made.
As a further possible sign, some have noted that the day before he left for Germany last week, the Pope bestowed the pallium on Cardinal Angelo Scola, an old friend of the Pope, who took up his new appointment as Archbishop of Milan this week (the Pope usually imposes the pallium on several newly appointed bishops on June 29, the Church's feast day of Saints Peter and Paul).
Cardinal Scola, 69, is a leading contender for the papacy, and last week's private ceremony was therefore read by some observers as a possible "anointing of a successor."
Pope John Paul II broke with tradition and imposed the pallium on the then-Cardinal Ratzinger during Lent of 2003, though probably more in recognition of Cardinal Ratzinger's position as dean of the College of Cardinals than as a sign of his chosen successor.
In spite of how it might seem, the reasons for last week's private ceremony can easily be explained: Cardinal Scola wasn't able to attend the usual June 29 ceremony as his nomination had just been made a few days before.
Last week's ceremony was originally scheduled for Sept. 15, but was postponed to Sept 21 due to illness (of the cardinal). Serendipitously, Sept 21 also marked Scola's 20th anniversary as a bishop.
As a leading prelate with the same theological views as the Pope, Cardinal Scola is nevertheless considered by Vatican watchers to be a top contender to succeed Pope Benedict. Before his appointment to Milan, he was Patriarch of Venice.
Both positions are of great importance to the Italian Church, and have traditionally been seen as possible stepping stones to the papacy.
Antonio Socci is an acclaimed writer in Italy, but he has had conflicts with the Vatican in the past. In 2007, he wrote a book in which he said he had hard evidence that a second text of the Third Secret of Fatima had not yet been published.
The Three Secrets of Fatima consist of a series of visions and prophecies from the Blessed Virgin Mary to three young Portuguese shepherds. One apparition is said to have foreseen the shooting of Pope John Paul II. The contents of the third secret were revealed by the Vatican in 2000.
Socci's claim led to a public dispute between him and Cardinal Tarcisio Bertone, the Vatican official who was entrusted by John Paul II with the publication of the third secret.
© 2013 Newsmax. All rights reserved.
Read Latest Breaking News from Newsmax.com http://www.newsmax.com/EdwardPentin/Pope-Resign-Benedict-Vatican/2011/09/28/id/412538#ixzz2KqRkp57B
Urgent: Should Obamacare Be Repealed? Vote Here Now!
Waning strength of mind and body led to his decision, which the papal spokesman said reflected 'great courage.'
By Edward Pentin
VATICAN CITY (12 Feb. 2013) — During the course of his nearly eight-year pontificate, Pope Benedict XVI has sometimes been labeled "the Pope of Surprises" on account of his academic brilliance and unpredictability, but few seriously imagined this.
News of Pope Benedict XVI's resignation — which was declared formally in a written statement dated Feb. 10 — filtered through the Italian news agency ANSA at around 10.30 a.m. Rome time Feb. 11 and was initially met with widespread disbelief, even by those closest to him.
Vatican spokesman Father Federico Lombardi confirmed a couple of hours later during a packed and somber press conference that the Pope would indeed be leaving his ministry as Bishop of Rome and Successor of Peter at precisely 8 p.m. on Feb. 28. Benedict announced his decision to a Feb. 11 consistory of cardinals to rule on three canonizations.
Father Lombardi said his closest aides were left "incredulous," but added that Holy Father showed "great courage" and "determination." Speaking the day after the announcement, he said the Pope was "serene" after taking "a lucid and well formed decision."
It's thought that only his very close inner circle — notably his brother Msgr. Georg Ratzinger, Cardinal Angelo Sodano, and the prefect of the Pontifical Household Archbishop Georg Gänswein — knew of the Pope's decision to resign before the public announcement. Father Lombardi said it was an "absolutely personal" decision.
Such a resignation is unprecedented in modern times, with the last papal resignation being Pope Gregory XII in 1415. But it is in line with Canon 332 No. 2 of the Code of Canon Law, which states that if a Pope is to resign, "it is required for validity that he make the resignation freely and that it be duly manifested, but not that it be accepted by anyone."
In his statement, the Pope said that "after having repeatedly examined" his conscience before God, he had come to the "certainty" that his strengths, "due to an advanced age, are no longer suited to an adequate exercise of the Petrine ministry."
He added: "I am well aware that this ministry, due to its essential spiritual nature, must be carried out not only with words and deeds, but no less with prayer and suffering."
But he said in today's world, "subject to so many rapid changes and shaken by questions of deep relevance for the life of faith, in order to govern the barque of St. Peter and proclaim the Gospel, both strength of mind and body are necessary." He noted that these had "deteriorated in me to the extent that I have had to recognize my incapacity to adequately fulfill the ministry entrusted to me."
"For this reason," he continued, "and well aware of the seriousness of this act, with full freedom I declare that I renounce the ministry of Bishop of Rome, Successor of Saint Peter, entrusted to me by the Cardinals on 19 April 2005."
No Medical Diagnosis
No specific medical reasons were given: Father Lombardi said he knew of no particular medical complaint, only that he had noticed increasing frailty, although on Feb. 12 he disclosed that the Pope had had a new pacemaker fitted three months ago. He also denied there was any conscious attempt to make the announcement on the Feast of Our Lady of Lourdes, which is also the Church's World Day of the Sick.
The news prompted speculation about the reasons for his unexpected decision. However, those close to the Pope argue that his decision is very much in keeping with his character. Reluctant to be Pope — he once remarked that on learning of his election, he felt like a guillotine had come down on his neck — he went on to courageously embrace it. But it was no secret that as cardinal, he harbored dreams of retiring and spending time back in his native Bavaria writing books.
Moreover, as a man known for his humility and well aware of his strengths and weaknesses, he made it clear that he would consider resigning if the time were right. In his 2010 interview for the book Light of the World, Pope Benedict was asked if he would resign in view of the sexual abuse scandal.
"When the danger is great one must not run away," he said. "For that reason, now is certainly not the time to resign. Precisely at a time like this one must stand fast and endure the difficult situation. That is my view."
But he added, "One can resign at a peaceful moment or when one simply cannot go on. But one must not run away from danger and say that someone else should do it."
Asked if he could imagine a situation in which he would consider a resignation by the Pope appropriate, he said he could, and that "if a Pope clearly realizes that he is no longer physically, psychologically, and spiritually capable of handling the duties of his office, then he has a right and, under some circumstances, also an obligation to resign."
That time appears to have come.
Brotherly Concern
Msgr. Georg Ratzinger, the Pope's older brother, told reporters Feb. 11 that the Holy Father had been advised by his doctor not to take any more trans-Atlantic trips and had been considering stepping down for months. He added that he had been having difficulty walking and that his resignation was part of a "natural process."
"His age is weighing on him," he said. "At this age, my brother wants more rest."
But a further sign that the Pope might resign was also apparent back in 2009. Robert Moynihan of Inside the Vatican was one of the few to draw attention to the significance of Benedict XVI visiting the resting place of Pope Celestine V. A holy Pope chosen reform the Church, Celestine pleaded with cardinals not to choose him, and struggled to rule the powerful cardinals around him. He resigned from the papacy in December 1294, five months after his election.
Elected at a time of great corruption and contention in the Church, after a long conclave, he assumed the See of Peter at the age of 80; Benedict XVI was 78 when elected in 2005.
Some observers therefore see it as unsurprising that Benedict XVI had an affinity with Celestine, and during his 2009 visit, made a significant gesture by leaving his own pallium — a sign of his episcopal authority and his connection to Christ — on the medieval Pope's tomb.
During his pontificate, Benedict has venerated the relics of Celestine twice — but although such gestures did not go unnoticed at the time, few believed Benedict XVI would himself resign.
But the Holy Father's retirement is likely to be less fraught than that of Celestine, who was held under house arrest by Pope Boniface VIII as his successor feared his opponents might use Celestine as a rallying point. Boniface also annulled all of Celestine's official acts.
Father Lombardi said Pope Benedict plans to retire to a former cloistered monastery within the Vatican, but immediately after Feb. 28, he will be based at the papal summer residence in Castel Gandolfo. This is to allow renovations to the monastery to be completed, after which the former Pope will continue his theological studies.
The Vatican spokesman, speaking on Feb. 12, said the Pope's expected encyclical on faith will not be published before the Pope steps down. He added that he did not know how close the document was to completion but when published, it will take a form other than an encyclical.
Tributes Pour In
Tributes to the Pope have been pouring in from around the world, beginning in the Curia.
Cardinal Angelo Sodano, dean of the College of Cardinals who will play a key role in overseeing the coming conclave, expressed his closeness, and that of all the cardinals, to Benedict XVI.
"We have heard you with a sense of loss and almost disbelief," he said in a statement. "In your words we see the great affection that you have always had for God's Holy Church, for this Church that you have loved so much."
He recalled how the Holy Father "did not hesitate" to assume the responsibilities of being Pope when elected in 2005. "Although moved with emotion, to answer that you accepted, trusting in the Lord's grace and the maternal intercession of Mary, Mother of the Church. Like Mary on that day she gave her 'Yes', and your luminous pontificate began, following in the wake of continuity, in that continuity with your 265 predecessors in the Chair of Peter, over 2,000 years of history from the Apostle Peter, the humble Galilean fisherman, to the great popes of the last century from St. Pius X to Blessed John Paul II."
"We will still have many occasions to hear your paternal voice," Cardinal Sodano continued. "Your mission, however, will continue. You have said that you will always be near us with your witness and your prayer. Of course, the stars always continue to shine and so will the star of your pontificate always shine among us. We are near to you, Holy Father, and we ask you to bless us."
Cardinal Timothy Dolan, president of the USCCB, issued a statement saying the Pope "brought a tender heart of a pastor, the incisive mind of a scholar and the confidence of a soul united with God in all he did." Acknowledging sadness at the news, Cardinal Dolan said his resignation is "another sign of his great care for the Church."
"Our experience impels us to thank God for the gift of Pope Benedict," Cardinal Dolan said.
Other Voices
Tributes were forthcoming from outside the Catholic Church as well. Archbishop Justin Welby of Canterbury, the recently elected leader of the worldwide Anglican Communion, said it was with "a heavy heart but complete understanding" that Anglicans had learned of the Pope's decision.
"As I prepare to take up office I speak not only for myself, and my predecessors as Archbishop, but for Anglicans around the world, in giving thanks to God for a priestly life utterly dedicated, in word and deed, in prayer and in costly service, to following Christ," Archbishop Welby said in a message posted on his website. "He has laid before us something of the meaning of the Petrine ministry of building up the people of God to full maturity."
President Barack Obama also released an official statement in response to the Pope's announcement, remembering his 2009 visit with the pope and acknowledging the role of the Church in the U.S. and world.
Reaction among Romans was largely one of shock — drivers calling over passersby near the Vatican to check it was true, while others wondering if there were more reasons behind the resignation and that maybe he had been pushed out. Almost fittingly, a thunderstorm broke soon after the announcement and torrential rain poured down on Rome for the rest of the day.
The Coming Conclave
Attention has already started turning towards the coming conclave, although proceedings won't begin until March 1.
Father Lombardi said no one knows the exact date of the papal election, but noted that obviously there will be no need to wait the normal eight days of novendali (mourning) after the death of the Pope.
"Thus, in two weeks, during the month of March, in time for Easter, we will have a new pope," the papal spokesman said. "Benedict XVI will have no role in next March's conclave, or in the running of the Church during the time between popes, the time of Sede Vacante (empty chair)," he added. "The Apostolic Constitution gives no role in this transition to a pope who resigns." As of Feb. 12 it's also not clear what title Benedict XVI with have once he steps down.
Many speculate that among the leading candidates to succeed Pope Benedict XVI are Cardinals Marc Ouellet, prefect of the Congregation for Bishops, Angelo Scola, archbishop of Milan, Angelo Bagnasco, archbishop of Genoa, Peter Turkson, a Ghanaian and president of the Pontifical Council for Justice and Peace, Robert Sarah, a Guinean and president of the Pontifical Council Cor Unum, and Malcolm Ranjith, archbishop of Colombo, Sri Lanka.
From the United States, Cardinals Timothy Dolan, Raymond Burke, prefect of the Apostolic Signatura, and Daniel DiNardo, Archbishop of Houston-Galveston have been mentioned; however, in Church history it is considered less likely (though not impossible) for a candidate from a world superpower to be elected Pope.
Whoever is elected will find himself confronting a unique set of circumstances, and have to deal with the challenge of a previous, legitimately elected Pope still living.
Edward Pentin is the Register's Rome correspondent.