Newsmax Cover Story on Easter Sunday:
Rome is "ready, very ready" for the canonization of former Popes John Paul II and John XXIII, the Eternal City's mayor, Ignazio Marino said this week.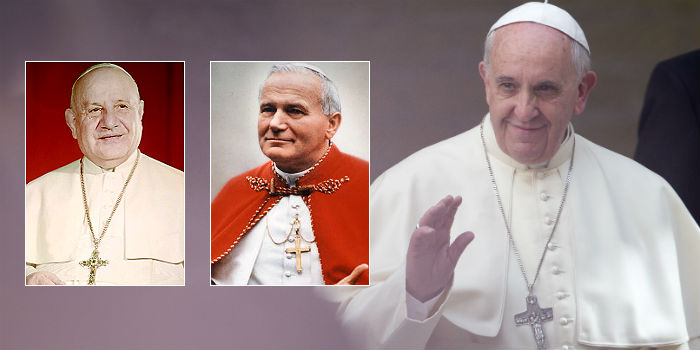 But in truth no one really knows how Rome will cope with what some predict will be the largest crowds the city has ever seen.
The interior ministry expects the April 27 double canonization, presided by Pope Francis in St Peter's Square, to draw 800,000 pilgrims from all over the world, but others predict far higher numbers, possibly as many as 7 million.
An enormous contingent of pilgrims from John Paul II's native Poland is expected, as well as significant numbers from the Lombardy region of northern Italy, the birthplace of John XXIII.
The Vatican says 19 heads of State will be attending as well as 24 prime ministers from 61 official delegations, representing 54 countries. Tickets are not required but seats will be difficult or near impossible to find and many are expected to camp out overnight to obtain the best places.
City authorities are visibly in full swing, already cordoning off major streets such as the Fori Imperiali that leads up to the Colosseum, repainting road markings and erecting 14 large screens in key areas all across the city.
Traffic is also starting to build, clogging key roads in the city, while Rome's many hotels prepare for one of their best business weekends in years. Most rooms are sold out, and at least one hotel near the Vatican is charging as much as 700 Euros a night.
But despite the logistical challenges, Rome is well practiced in hosting such enormous events and tends to manage them well. Thousands of volunteers will join the protezione civile – Italy's main body dealing with the management of exceptional events.
Security will also be tight: Italy's interior minister has said 2,430 police units will be assigned to carry out checks and patrol sensitive targets.
Festive occasion
Canonizations for the Catholic Church are always great festive occasions and the fact that so many have memories of both popes, particularly of John Paul II, makes this event especially unique. Countless interviews have been released in recent weeks with close friends and associates of the two popes, each offering testimony to their personal holiness.
"Good Pope John," as he became known, is best remembered for convening the Second Vatican Council that opened the Catholic Church up to the world to better engage with it. He is also praised for his landmark encyclical, Pacem in Terris, which laid out the Church's vision for world peace in the nuclear age.
"Every chapter of the encyclical starts with a statement dealing with an aspiration of men … to peace, to freedom, to dignity," said Cardinal Paul Poupard who worked in the Vatican Secretariat of State during Pope John's papacy, in an interview this week.
John XXIII was a man of simple holiness who strove to bring peace and unity to the Church and to the world, but he was not a simple man.
"He has certainly been a complex figure, much more complex than the cliché of the "good pope"," said Marco Roncalli, his great-nephew. "His path in life was complex, rich and spiritual, like the example he gave through his Christian virtues, delineated in the history of mankind."
Reasons for John Paul II's canonization are better known.
The Polish Pope, who many credit for helping to end Soviet communism, was a man of deep prayer and devotion to the Blessed Virgin Mary.
Examples of his holiness and concern for others are many, and people were so convinced of his personal sanctity that they chanted "Santo Subito!" – "Saint Now!" – at his funeral.
Two miracles have been attributed to his intercession: a French nun cured of Parkinson's disease soon after his death, and a Costa Rican woman who was healed of a brain aneurysm.
And yet despite the great adulation for these two Successors of St. Peter, not everyone is happy. Although it's normal for two or more candidates to be canonized on the same day, many Poles would have preferred a separate canonization for John Paul, believing he deserves such singular attention.
Fans of John XXIII, meanwhile, lament that he's often playing second fiddle to his better known and arguably more popular successor.
The double canonization has led to organizational headaches for the Vatican and few events are planned around the ceremony. But more significantly, there are those who have strong reservations about the Second Vatican Council, saying it was an imprudent move given the state of the world at the time, the misinterpretations of the Council teachings, and the precipitous fall in Church attendance, vocations, and a general weakening of ecclesial authority that followed.
John convened the Council; John Paul was its leading proponent, and many have noted the speed at which they will be made saints – a process that can often take centuries.
Furthermore, the fact that Pope Francis waived the need for a second miracle for John XXIII has led some critics to accuse the Vatican of simply wishing to "canonize the Council."
But the majority of Catholics see this event differently. To them, it's a means of holding up to the world the lives of two men whose outstanding personal holiness and close relationship with God shine like a beacon in a world where a "culture of death" – a term coined by John Paul II – has taken hold.
The light and example of these popes is sorely needed, they argue, in an age when Christ is being increasingly rejected or ignored and secularism is on the rise.
Read Latest Breaking News from Newsmax.com http://www.newsmax.com/Headline/popes-dual-canonization-rome/2014/04/19/id/566556#ixzz2zPV85JO7
Urgent: Should Obamacare Be Repealed? Vote Here Now!
VATICAN CITY — The Vatican has confirmed that both Blessed Pope John Paul II and Blessed John XXIII will be canonized and possibly at the same time, although a date has yet to be set for the canonizations.
Reading from a statement, Vatican spokesman Father Federico Lombardi told reporters today that Pope Francis had approved a decree on a miracle attributed to John Paul II's intercession.
He also said the Holy Father had approved a "favorable vote," taken by a commission of cardinals and bishops, "on the canonization of Blessed Pope John XXIII."
The commission has decided to "convoke a consistory" so that both canonizations can take place at the same time, but it's not clear exactly when, as Pope Francis wants to hear the opinions of cardinals first.
"No date has been set," Father Lombardi said, "but it is very likely that there will be one canonization ceremony before the end of the year."
Father Lombardi said that in the case of John XXIII, Pope Francis has agreed to skip the usual second miracle required for canonization as a second miracle attributed to his intercession has not been forthcoming. Angelo Giuseppe Roncalli (1904-1963) was elected Pope John XXIII in 1958.
The announcement of the papal canonizations was just part of a long list of decrees issued today for sainthood causes.
Among them was a decree approving a miracle needed for the beatification of Father Alvaro del Portillo y Diez de Sollano (1914-1994) who succeeded St. Josemaria Escriva as bishop and prelate of Opus Dei.
Second JPII Miracle
Concerning the miracle attributed to John Paul II's intercession, the Vatican has yet to release details, but it is understood to concern the healing of a severely ill woman from Costa Rica.
Spanish newspaper La Razon has identified her as Floribeth Mora, a 50-year-old law student. She suffered from a cerebral aneurism that was inexplicably cured on May 1, 2011 — the very day of John Paul's beatification. Her family prayed for her at the time and she had been given only a month to live.
Her doctor, Dr. Alejandro Vargas, told La Razon that the disappearance of the aneurism "surprised me a lot" and that he couldn't explain it "based on science." Some reports say the exact details of the miracle will "amaze the world" and are to be revealed later today by Costa Rican doctors.
News of the miracle has already spread to Floribeth's hometown of La Union, attracting a large number of visitors from all over Costa Rica. So many have been arriving, La Razon reports, that Floribeth left the town to seek refuge at her mother's house in San Jose.
On July 1, 2011, Cardinal Stanislaw Dziwisz, John Paul II's former private secretary, sent a relic of John Paul II to Costa Rica. Floribeth was able to see the relic and thank John Paul II, two months after her miraculous cure.
A neighbor told the Spanish-language daily: "The whole neighborhood is very happy because we always believed in John Paul II, you can see the nobility in his face."
The first miracle attributed to John Paul II's intercession and which led to his beatification in 2011 concerned Sister Marie Simon Pierre, whose recovery from Parkinson's disease could not be explained by a Vatican panel of medical experts.
'Santo Subito!'
John Paul II's beatification occurred after Benedict XVI dispensed with the traditional five-year waiting period, permitting the beatification process to begin weeks after his April 2, 2005, death.
The decision was taken after chants of "Santo Subito!" ("Sainthood Now"), which erupted during John Paul's funeral.
Writing in the July 6 edition of L'Osservatore Romano, Cardinal Dziwisz said he spent "almost 40 years next to a saint, working by his side in Krakow and the Vatican."
"[People] asked me a few times when would John Paul II become a saint," he said. "I think he has been one since his youth. Karol Wojtyla was a normal guy, sharp and sensitive, full of energy and zest for life. But from the beginning, in him was something 'more.'"
Paying tribute to his holiness, the Polish cardinal reflected on how difficult it was at John Paul II's funeral for him to cover the former Pope's face with a cloth — a face that was "so close, so friendly, so human."
"Today," he said, "I am delighted by the fact that from now on, the whole Church will establish the face of a new saint, St. John Paul II."
In an interview in the same issue, Cardinal Angelo Amato, prefect of the Congregation for the Causes of Saints, said both John Paul II and John XXIII were "united by the same pastoral concern for the Church."
Both popes, he said, "have two common points of reference: the Council as a Gospel event of love and peace, and the Church as a generous and thoughtful mother, who is close to every human being, and gives comfort, help, support and hope."
But some, including a few Vatican officials, are concerned that the Vatican is being too hasty with John Paul II's canonization, coming less than a decade after his death. An unnamed Vatican official criticized the poor governance that took place under John Paul II, and especially during his final years, while other critics point to many deep-seated problems including clerical sex abuse scandals took place during his pontificate.
Careful Canonical Process
Cardinal Amato, however, stressed that "all the canonical procedures desired by John Paul II during his pontificate have been followed carefully, without haste and superficiality." He also recalled St. Anthony of Padua was canonized by Gregory IX on May 30, 1232, less than a year after his death, which took place on June 13, 1231.
Also writing in the Vatican paper was Msgr. Loris Capovilla, John XXIII's former private secretary, who paid tribute to his former superior as a man whose philosophy was one of "simplicity and prudence."
"It is difficult for me to express in words the tumult of feelings in me caused by this splendid decision of Pope Francis to join the canonization of two popes whose holiness I have personally experienced," he said.
He recalled anecdotally praying with John Paul II soon after his election, and sharing with the Pope his moments of suffering, also alongside John XXIII.
John Paul II replied to Msgr. Capovilla, "We all have to suffer. And Pope John, being a prophet, had to suffer for his faith in Christ. But sooner or later, they'll realize it: He was a saint."
Edward Pentin is the Register's Rome correspondent.
Read more: http://www.ncregister.com/daily-news/its-official-john-paul-ii-and-john-xxiii-to-be-canonized/#ixzz2YC8mXr3T
by EDWARD PENTIN 05/03/2013
VATICAN CITY — The Vatican is remaining tight-lipped over recent reports that a miracle attributed to the intercession of Blessed Pope John Paul II has been given approval by a committee of Vatican doctors.
An official refused to be moved to offer comment by the reports, as was the case with the postulator of John Paul's cause. But if the news is true, the late Pope's cause will have advanced considerably, possibly paving the way his canonization later this year.
In late April, the veteran Vatican watcher Andrea Tornielli of La Stampa reported that a Vatican panel of doctors had confirmed there was no medical explanation for a healing attributed to the intercession of John Paul II.
Although the process is being carried out in strict secrecy, Tornielli reported that in January the postulator of the cause, Msgr. Slawomir Oder, submitted a medical file containing details of the alleged miracle to the Congregation for the Causes of Saints for a preliminary opinion.
Two doctors of the Vatican who had already examined this new case both gave a favorable opinion, according to Tornielli's article. The file with medical records and testimonies was then officially discussed by a committee of seven doctors in April. The panel, presided over by Dr. Patrizio Polisca, the papal physician, also gave a favorable opinion.
The alleged miracle — which had to have taken place after John Paul II's beatification in May 2011 — must now be presented to a panel of theologians and cardinals to examine. If they agree with the doctors, the cause of Karol Wojtyla will be presented to Pope Francis to give his stamp of approval.
But if Tornielli's account is accurate, already the most important hurdle appears to have been overcome, as neither the theologians nor cardinals can make clinical evaluations of the case. This means the canonization may not be far away and could conceivably take place as soon as this autumn, possibly on the closest Sunday to his feast day on Oct. 22. The 35th anniversary of John Paul II's election also falls on Oct. 16.
WYD Announcement?
Some are even speculating Pope Francis might announce the date of canonization during World Youth Day in Rio de Janeiro in July, as the youth festivals were inaugurated during John Paul's pontificate.
However, it is worth noting that it took some four years from the partial recognition of the first miracle — that of French Sister Marie Simon Pierre who was miraculously healed of Parkinson's — to John Paul II's beatification ceremony in 2011.
Msgr. Oder's office declined to comment when contacted by the Register May 2, simply asking to contact them "at a later date." A Vatican official, who has in the past voiced concern at the speed at which the cause is progressing, also said he had nothing to add at this stage, saying: "There are lots of things in life that can't be done and get done."
Another question mark over an early canonization is whether the significant amount of planning needed could be carried out in such a short space of time.
But the same concerns were flagged ahead of John Paul II's beatification, and yet all the arrangements were in place within just four months.
With no clear information forthcoming from the Vatican the skeptics will continue to have their say, but this fact remains: Blessed John Paul II's cause for canonization continues apace.
Read more: http://www.ncregister.com/daily-news/vatican-silent-on-john-paul-iis-cause-for-canonization/#ixzz2SV5Eng2N