In an exclusive interview with LIGNET, a former head of Britain's armed forces has voiced his strong opposition to a military strike on Syria, saying a war on the country would be a "mistake" as its consequences would be "particularly uncertain" and could make the situation "much, much worse."
Field Marshall Charles Guthrie, Baron Guthrie of Craigiebank, also believes hostilities favoured by the Obama administration in reaction to an alleged chemical weapons attack last month would not fulfil the criteria of a just war.
Charles Guthrie served as head of Britain's armed forces from 1997-2001 under Prime Minister Tony Blair. From 2000 until 2009 he was head of the SAS, Britain's special forces. He commanded the British Army from 1994 to 1997 and advised the British government during the Bosnian and Kosovo wars.
Speaking to LIGNET Sept. 6th, Guthrie said: "I do not think we should carry out a military strike or anything like that – that's mainly where I'm coming from."
He said it would be "a mistake to go to war" because there are "a lot of reasons not to do it."
"What effect will it have on the region? What effect will it actually have on the people on the ground?," he asked. "And what we have to remember is that, quite honestly, every war has unforeseen consequences."
He said this conflict is "particularly uncertain" because "we're not quite sure of what the opposition is really like," and he was wary of any military action in the Middle East in general. "There are other countries who are very fragile at the moment – I'm thinking of Lebanon and Jordan – so it could spread quite easily."
Asked what he thought might be the most likely consequences would be, he said: "It's difficult to say, but are we seriously going to say that if the bombs don't work, we're going to bomb and bomb and bomb, day after day, week after week? Is that a good policy?"
Over the course of his career, Lord Guthrie served in Malaysia, the Persian Gulf, the Balkans, East and West Africa and Northern Ireland. Last year, Queen Elizabeth II raised him to the rank of Field Marshal.
An expert in the ethics of war, in 2007 Guthrie co-authored with Sir Michael Quinlan, a former top official in Britain's Ministry of Defense, a best-selling book called "Just War – The Just War Tradition: Ethics in Modern Warfare."
He is particularly concerned that this operation would fail to measure up to the criteria for a just war. Without UN Security Council backing (never likely in this case), he said it would lack legitimate authority. He was also not fully convinced such a war would be a sufficient and proportionate response.
"I think probably there's a just cause, but it's awfully difficult to tell," Guthrie said. "You can never tell whether a war will go smoothly and easily. And when you've embarked on a war, there are unforeseen consequences and you're never quite sure when it's going to end." He is also convinced that bombing a country "makes people war resolute."
Moreover, he's wary that bombs can hit the wrong targets. "They can hit civilians, there can be collateral damage, and what seems a frightfully good idea can be used against you," he said.
Some just war theorists argue that punishment is a legitimate criteria, but Guthrie doesn't share this view. "You've got to make the situation better and you could be making it much, much worse," he said. The Field Marshal is also sceptical that a bombing campaign will be effective as a deterrence against further chemical weapons attacks in Syria. It could work, he said, "but at what price?"
He stressed it's important to say that chemical weapons are a "horrible thing" and that people are "very emotional about it."
"People recall even now, a long, long time after the First World War, that chemical warfare has been used recently by Iraq on the Kurds and on the Iranians," he said. "But though it's a particularly nasty and revolting way to kill people, there are a lot of other ways to kill people, too."
A Catholic, Lord Guthrie is supportive of calls from Pope Francis and others for talks and a political settlement. "That's absolutely right, but the difficult is getting people to want to talk," he said. "The best way is for people to get round a table and hammer it out. It's all very well for the Holy See to say that, but you've got to have two sides who earnestly want to have a solution, and whether you've got that I don't know," he said.
"Eventually they will come to the table I suspect, but they're not ready to come yet and the Russians aren't being particularly helpful." Russia and Iran have been accused of arming President Bashar al-Assad. Other nations such as Saudi Arabia, Turkey and Qatar have been bankrolling Islamist rebel forces fighting the Assad regime, making this conflict "very, very complicated" and "completely different to Iraq," he said.
"We need to say a lot of prayers," Guthrie said.
Guthrie's opposition to a military strike is similar to other very senior military figures such as Lord Dannatt, another former head of the British Army, who recently said he did not currently support military action in Syria "in any shape or form".
This article appeared in LIGNET, 9 September 2013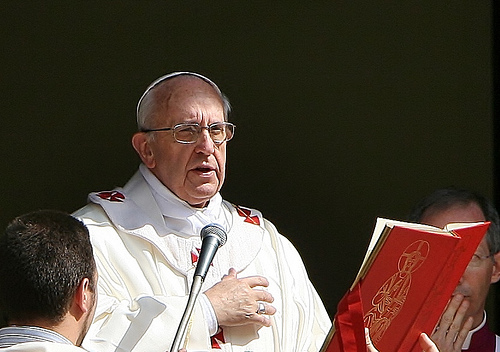 VATICAN CITY — In the latest move showing Pope Francis' determination to  prevent further bloodshed in Syria, the Holy Father has sent a letter to leaders  of the G20 group of nations who are meeting in Russia, urging them "to lay aside  the futile pursuit" of a military solution to the conflict and instead renew  their commitment to dialogue and negotiation.
News of the Pope's appeal came as the Vatican briefed the diplomatic corps  accredited to the Holy See Sept. 5, during which the Holy See issued a rare and  detailed six-point program for peace as an alternative to the use of  violence.
In his Sept.  4 letter, addressed to Russian President Vladimir Putin, who is chairing  this year's G20 meeting in St. Petersburg that opened yesterday, the Pope  said it is "regrettable that, from the very beginning of the conflict in Syria,  one-sided interests have prevailed and in fact hindered the search for a  solution that would have avoided the senseless massacre now unfolding."
He added that G20 leaders "cannot remain indifferent to the dramatic  situation of the beloved Syrian people, which has lasted far too long and even  risks bringing greater suffering to a region bitterly tested by strife and  needful of peace."
"To the leaders present, to each and every one, I make a heartfelt appeal  for them to help find ways to overcome the conflicting positions and to lay  aside the futile pursuit of a military solution," the Holy Father said. "Rather,  let there be a renewed commitment to seek, with courage and determination, a  peaceful solution through dialogue and negotiation of the parties, unanimously  supported by the international community."
The Holy Father also said the leaders have a "moral duty to do everything  possible to ensure humanitarian assistance" reaches all those affected by the  conflict, also beyond Syria's borders.
Principles for Peace
Earlier, Archbishop Dominique Mamberti, the Vatican's foreign minister, held  a special briefing at the Vatican for all ambassadors accredited to the Holy See  to inform them of the "significance of Pope Francis' initiative" to hold a  special day of fasting and prayer on Sept. 7.
But many of the diplomats were surprised to also be handed a three-page "non  paper", or aide-memoire, detailing the Holy See's concerns for Syria and a list  of six points which it considers "important for preparing a possible [peace]  plan for the future of Syria."
The document, entitled "Regarding the Situation in Syria," focuses on  "following general principles," which include re-launching dialogue and  reconciliation, avoiding division of the country into different zones and  maintaining its territorial integrity.
The Holy See asks that there be a "place for everyone" in a new Syria, in  particular for minorities such as Christians. It says Alawites (President Bashar  al-Assad's ruling sect) must also have guarantees or they may emigrate or risk  their own lives by remaining in the country.
"Such a risk would make it more difficult to reach a compromise with them,"  the Holy See says, and it argues that all minorities must be involved in  preparing any new constitution and laws.
The document proposes the establishment of a ministry dedicated to  minorities, insists on the concept of citizenship with equal dignity and  emphasizes the importance of respecting human rights and religious freedom. It  also stresses the importance of asking "members of the opposition to distance  themselves from extremists groups, isolate them and reject terrorism openly and  clearly."
The last of the six points underlines the importance of ensuring "all  necessary cooperation and assistance for the immense task of reconstruction in  the country."
Papal Interventions
Elsewhere, the document recalls the "numerous and heartfelt" interventions  by the Pope on the crisis, as well as those by the Holy See.
"Absolute priority must be given to ending the violence," the Holy See says,  adding that the "joint effort of the international community is essential."
It stresses the importance of respecting humanitarian law and that one  "cannot remain passive" in the face of continuing violations of it. "The use of  chemical weapons must be stopped and condemned with particular determination,"  it says.
The document is particularly strong on humanitarian assistance, saying the  situation is "extremely grave" and that it's foreseeable by the end of the year  that half of Syria's population will need assistance. To allow aid to reach all  parts of the country, it calls for a ceasefire, even a partial one, and  guaranteed safety for aid workers.
Recalling that the Catholic Church is "at the forefront in providing  humanitarian aid," the Holy See also appeals for "solidarity and cooperation" on  all part of all governments in the region and non-governmental  organizations.
The document ends by stressing the urgency of the cessation of violence,  avoiding a possible "sectarian degeneration" of the conflict. It reiterates the  need for dialogue and negotiation and underlines that the focus must be "on the  good of the people, not the seeking of positions of power or other unilateral  aims."
A diplomat who attended the briefing said he and his colleagues were  "surprised at the detail of the program," which they saw as an effort on the  Holy See's part to restart the Geneva II negotiations.
Those talks, expected to take place in late 2013, are aimed at ending the  Syrian conflict and organizing a transition period and post-war reconstruction.  But Geneva II has so far stalled, as the United States has been unable to  persuade the opposition to take part.
"The briefing showed us that the Vatican means business; it's not just  rhetoric or platitudes," the diplomat said, and he noted the high level of  representation at the meeting in the Old Synod Hall.
"All ambassadors from the G20 were there; it was in effect a full house,  essentially a three-line whip," he said.
Day of Prayer and Fasting    
In the meantime, many Church groups have mobilized to take part in tomorrow's  day of prayer and fasting for peace in the Middle East. At the vigil in St.  Peter's Square that evening, diplomats will be placed alongside Pope  Francis.
The Holy Father is expected to arrive at 6:30pm, and sources say it is  likely he will remain there in prayer for a "considerable part of the time."
Edward  Pentin is the Register's Rome correspondent and a contributor  to EWTN News Nightly.
Read more: http://www.ncregister.com/daily-news/pope-francis-outlines-syria-peace-plan#ixzz2ePXAyCZi
Israeli President Shimon Peres warned Pope Francis Tuesday that the Middle East is "disintegrating" and that the pontiff "has an important role" to play in bringing peace to the region and the world.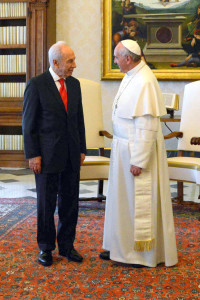 During their half-hour conversation, Peres said the Middle East is in "real existential danger" and cited the severe lack of employment, of food and water. He warned that if these problems are not resolved, "violence and terror will gain a central place, as dangerous weapons fall into the hands of extremists."
An Israeli government statement said Peres spoke of the danger of Iran's nuclear-weapons program and Syria's "huge quantities of chemical weapons." He told the Pope that Iran "must be prevented from acquiring nuclear weapons and that Syrian chemical weapons must not fall into irresponsible hands."
Peres welcomed the recent meeting between Secretary of State John Kerry and Arab League foreign ministers in Washington. He expressed hope for talks between Israel and the Palestinians under the leadership of Abu Mazen who, he said, is a "genuine partner for peace."
In its statement, the Vatican said Pope Francis and Peres expressed hopes for a speedy resumption of peace talks and an agreement that draws on "courageous decisions" and the support of the international community. A resolution of the Israeli-Palestinian conflict would contribute to peace and stability throughout the region, the Vatican said.
The Israeli statement said Pope Francis suggested creating "a global meeting of hope with the heads of all the world's faiths and to come out against violence and terror." The Pope also condemned anti-Semitism, saying it goes against the beliefs of Christianity and that it "must be opposed in every country in the world and every corner of the globe," the Israeli statement continued.
Peres praised Pope Francis for his example, noting his humility and pursuit of peace.
"You have an important role in progressing peace and the belief in it," Peres said. "I turn to you and ask that within your sermons in front of millions of believers in the world you include the hope for peace in the Middle East and the whole world."
He said the Pope's leadership "creates a new spirit of hope for peace, of dialogue between nations and of the promotion of a solution to global poverty and illiteracy."
"Sadly, there are many religious leaders in the Middle East and across the world who advocate terror and bloodshed and do so in the name of the Lord," he said. "We all have an obligation to stand up and say, in a loud and clear voice, that the Lord did not give anyone the authority to murder and carry out bloodshed. Your voice has a great impact in this matter."
Peres took the opportunity to officially invite Pope Francis to visit Israel.
"I am expecting you in Jerusalem and not just me, but all the people of Israel," he told the Pope. "The sooner you visit the better, as in these days a new opportunity is being created for peace, and your arrival could contribute significantly to increasing the trust and belief in peace."
Speaking to reporters after the audience, Vatican spokesman Father Federico Lombardi said the Pope "would be happy to go to the Holy Land" but that no concrete plans have been made. Last week, Lombardi said Francis' only trip abroad this year would be in July to Rio de Janeiro and to his homeland of Argentina.
Paul VI, John Paul II, and Benedict XVI made visits to the Holy Land, each viewing the destination as crucial. Not only does the Holy Land hold obvious historical significance to the Church, but all sides in the Arab-Israeli conflict recognize the Church's pivotal role in peace building.
The Catholic Church also is keen to offer encouragement to Christians who have been fleeing the region in large numbers. Over the past 13 years, the Christian population in the Holy Land has halved, with most leaving because of insecurity, hardship and poor prospects.
Since his election, Pope Francis has made a point of appealing for peace in the region, most notably in his Easter address. He also chose the papal name of Francis after St. Francis of Assisi, who was known for his peacemaking efforts and his famous dialogue with the sultan of Egypt, Malik-al-Kamil. The Franciscans have been the official custodians of the Catholic Church's Holy Sites in the region ever since.
Peres' invitation comes just weeks after Orthodox Ecumenical Patriarch Bartholomew of Constantinople personally invited Pope Francis to visit Israel.
The patriarch suggested that he and the Pope meet in Jerusalem in 2014 to mark the 50th anniversary of the historic breakthrough in Catholic-Orthodox relations, when Paul VI and Ecumenical Patriarch Athenagoras met there in 1964.
***
This article appeared in Newsmax, 30 April 2013
Read Latest Breaking News from Newsmax.com http://www.newsmax.com/Newsfront/peres-pope-middle-east/2013/04/30/id/502094#ixzz2RzDMOTwt